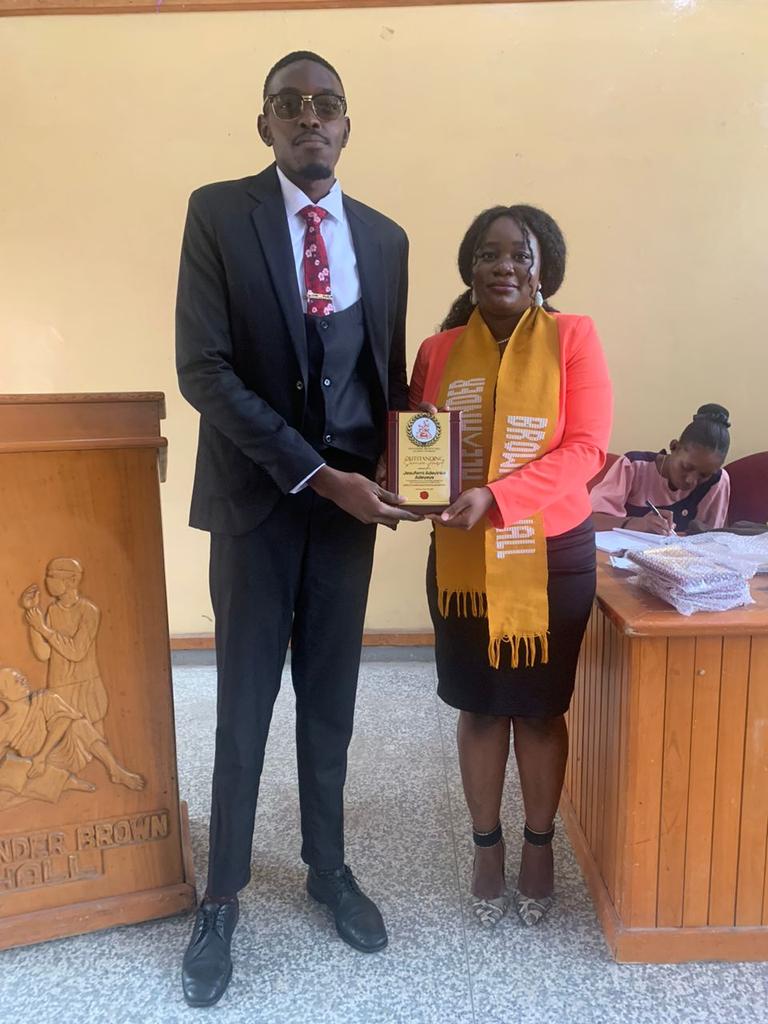 Amidst inchworm infestations, rains that come and go, rumoured school fees hike, and Nigeria "Nigeria-ing", a new morning has broken in the Alexander Brown Hall, and as always, one wonders how the year will go. About a month ago, power in the Alexander Brown Hall changed hands and with change comes uncertainty and keen observation.
The new Executive Council led by Mr Jesufemi Adeyeye, is one that will have a short time to prove to Brownites that they were indeed the best choice for the Hall. Mr Adeyeye, who previously served as Health and Sanitation Minister, and was perceived by many to have performed well in that role, is perhaps the one from whom the most is expected. His administration is certain to be fraught with challenges that may range from administrative to financial, especially in light of the current economic situation, but we can only hope that his tall frame will always tower above any challenges that may occur.
Speaking of administrative issues, the Health and Sanitation Minister-elect, Mr Uchechukwu Uzor, who had initially failed to get sworn-in as the Health and Sanitation Minister, following his disqualification to occupy the role after being deemed not to have served the Hall Assembly, was eventually sworn in thanks to a loophole in the constitution that made him qualified. Mr Uzor, a rather ambitious man, is one of the most interesting members of the Executive Council as following the ABH elections, he has gone on to emerge as the President of the UCH Students' Association (USA). It is even more interesting to note that he is currently the South West Regional Coordinator for the National Association of Dental Students (NADS) and is vying for the position of NADS President. Regardless, one hopes that he understands that the Health and Sanitation Ministry has a lot of things to combat, from the current state of the hall's sanitation, to questionable hygienic practices of the food vendors, and the ever-increasing ABH rats. His Ministry only recently conducted an "emergency clean-up exercise", so one can consider that a good start, and a prelude of good things to come. We wish him the best in his multitasking endeavours.
Similarly, the Female Affairs Minister, Miss Oyefabi, who was also deemed not to have served the Hall Assembly in the past tenure, has a prime opportunity to make good on one of her manifesto promises – "to push for more inclusion and encourage female participation in the sporting events in ABH". With the ABH Female Mini-League due to hold in some weeks, her encouragement of female participation will be quite instrumental. It is believed that she will work hand in hand with the Sports Minister, Mr Ugochukwu Opara and the ABH Football Association, to make good on her promise. We also particularly look forward to her first announcement of the dirtiest female floor as that is sure to be interesting.
Mr Israel Fort, the Social and Buttery Minister (SBM), who hopes to improve on the "social aspect" of the Hall despite not being much of a social butterfly himself, will also be greatly needed in times like these when the country keeps dishing strike after strike at Nigerians with Brownites not left out. Social events will be needed to "spark joy" amidst the academic, financial, emotional, psychological and perhaps spiritual hardships that Brownites are facing.
The Executive Council also has Mr Nicholas Omoniyi, who chose a role as the Defense Minister for his debut into student politics. As in recent history, ABH has been largely safe, the onus lies on him to maintain this trend, as well as revitalise the ABH Gym as optimally as can be afforded, such that Brownites will soon be rather eager to use the gym. Although in recent history there has been an increase in the gym's female users, we look forward to a time when the ABH Gym would have about as many female users as their male counterparts.
The by-elections saw Miss Peace Udo, Mr Ayotunde Oni, Mr Chukwuagoziem Onuigbo, and Mr John Oluwagunwa emerging as Deputy Hall Chairperson, Information Minister, Hall Secretary and Finance Minister, respectively.
Mr Oni appears to have gotten off to a good start, with broadcast message after another going out to update Brownites on current happenings within the hall. While the idea of 'Brown hugs' to Brownites may be slightly corny, it does make for a good tagline. With the bar a few feet above the ground, the Information Ministry has a prime opportunity to ensure that this tenure sees a marked improvement from the last, in all matters pertaining to the Ministry. So we hope that they do not disappoint.
As in previous administrations, we may not be able to say much of the Deputy Hall Chair prior to the Hall Week, but one certainly hopes that the Week revives previous traditions of the Hall before they soon become forgotten. Mr Onuigbo and Mr Oluwagunwa, who have both previously served in their respective associations also have a lot of work on their hands that one hopes they can execute successfully. Mr Oluwagunwa is also another ambitious member of the Executive Council, as he currently serves as NADS Social and Welfare Director for the South West Region, and is also vying for the position of NADS Treasurer. We hope that he achieves the needed balance to handle all of these demanding positions.
It is out with the old and in with the new. Sometimes, as seen time and again with the Nigerian government, people miss old wine after they have tasted the new. We can only hope this will not be the case with the Adeyeye-led administration as at the very least, Brownites should have ABH to hold on to in these difficult times. May our dawn not become an eclipse.