A LIFE IN REVIEW: The Tale of Ernest Shonekan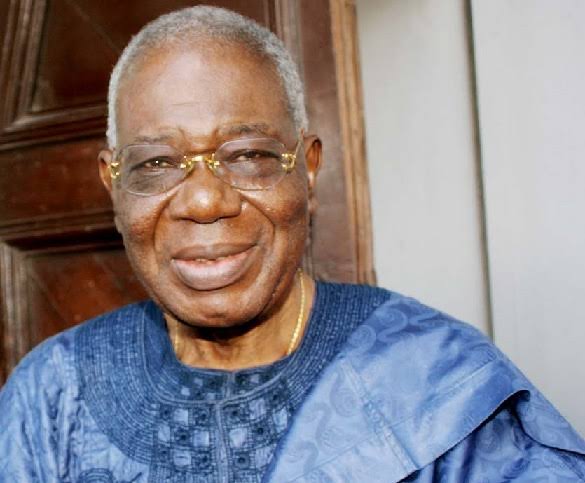 As we journey through the month of August, I believe it is only fair we remember Ernest Shonekan, the "forgotten President" whose term was cut short years ago. For a man who was the first and even the only on multiple accounts, we have forgotten a lot about one time Head of State, Ernest Adegunle Shonekan. Born to a family of 6 children, he hailed from Abeokuta, Ogun State. However, he spent a better part of his formative years in Lagos State where he attended C.M.S. Grammar School and Igbobi College. Then, he went on to the University of London where he earned a bachelor's degree in Law. Following this, he studied at Harvard Business School. 
After schooling, he was employed by the United African Company of Nigeria, one of the top companies at the time. He ascended through the ranks quite quickly, earning himself a seat on the board of directors at the age of 40. This made him a person of immense resources and connections. Although very impressive, the most impressive thing about Ernest Shonekan in my opinion is easily that he was the first man to attain the position of Head of State of Nigeria without winning a presidential election or staging a coup d'etat. 
Ernest Shonekan was appointed by Gen. Ibrahim Badamasi Babangida as interim Head of State following a bungled attempt to transition from military to democratic rule. A presidential election held on the 12th of June 1993 had Moshood Abiola from the Social Democratic Party coming out on top by a wide margin ahead of Bashir Tofa of the National Republican Convention. This roused unrest causing Gen. Babangida to step in with the appointment which he hoped would smooth things over in the wake of the Biafran War while also maintaining power in the democratically elected ethnic-political front as Ernest Shonekan was from the same state as Abiola Moshood.  
Shortly after appointment, he was said to have been pressured by Elders in his state of origin where he held a chieftaincy title to decline and cede it to Moshood Abiola, from whom the mandate was said to have been stolen. However, he resisted this pressure and went on to serve as Head of State of Nigeria with Moshood Abiola as his vice. One of his major goals was to establish a peaceful and politically stable nation in hopes of eventually successfully transitioning to democratic rule. Two notable moves toward achieving this include attempts to have the Nigeria's debts written off and preventing as well as mitigating political unrest. Despite his lofty goals, Nigerians were sceptical of his tenure. A major factor that contributed to this was the incontrovertible fact that he was appointed into office by a military leader. Citizens were largely unsure what the appointment meant for the nation at the time and whether or not he was merely to be a figurehead while military rule persisted behind the scenes. As a result, his term was rife with obstacles. 
Upon taking to office, his government faced difficulty establishing its authority. On the heels of this, followed a seemingly never-ending stream of strike actions, instability and protests. These all culminated in an inability to fulfill the goals of his government as both private and public bodies were unwilling to trust in what appeared to be a shaky government. Shonekan's time in office ended up being majorly uneventful as a result. His term was eventually cut short by a coup d'etat in November when Gen. Sani Abacha took power easily ousting a "powerless" government. This made Ernest Shonekan's presidential term the shortest one yet. His time in office ran from 26th August 1993 to 17th November 1993, a shocking 83 days in total. 
It is difficult to say with any certainty how things would have turned out if he had been privileged to serve a full term. However, regardless of his seeming lack of achievements in the political world, Ernest Shonekan was easily one of the giants of the private sector. After the coup, he went on to found the Nigerian Economic Summit Group in conjunction with other leaders in the private sector. This organisation aims to check and advise the government on policies in a bid to promote the economic growth of the nation.
Although most Nigerians have forgotten his political stint, he undoubtedly left quite a mark in the business world, leaving behind a legacy that still holds true in ensuring a government committed to economic growth. In addition to this feat, he may be credited with helping Nigeria on her way to democracy as it is difficult to say how democracy would have progressed and when it would begun without the knowledge his term accorded the nation. Although his short term was notably free of major groundbreaking change that colours the terms of many others of that time, many past Presidents consider Ernest Shonekan a man of peace that the nation needed. He passed at the age of 85 in 2022.