This Week in History: Sir Herbert Macaulay
The Pioneer of Nigerian Nationalism
Interesting grandparents? Check. Phenomenal writer? Check. Troublemaker where it mattered? Check. Journalism? Check. Public speaking? Check. Women's rights advocate? Check. Prison? Check Check. Cool even in the face of death? Triple check. The man – Sir Herbert Macaulay.
Sir Herbert Heelas Samuel Olayinka Badmus Macaulay was a prominent Nigerian nationalist, journalist, engineer, and politician. He was born on November 14, 1864, in Lagos, Nigeria, to a distinguished family of Nigerian and European ancestry. His father Thomas Babington Macaulay was the son of freed slaves and his mother, Abigail Crowther was the second daughter of Bishop Samuel Ajayi Crowther. He certainly had an interesting background.

Macaulay was a highly educated man, and he attended some of the best schools in Nigeria and England. His father founded and became the principal of the first secondary school in Nigeria, the Church Missionary Society (CMS) Grammar School which stands strong in Lagos till this day. His parents' attention to his and his siblings' education caused him to be remarkable in school.
After a brief stint as a clerical assistant at the Crown land grants, Macaulay was awarded a colonial government scholarship to study civil Engineering in England when he was nineteen years old. He studied not only civil engineering,  but also architecture and surveying. He thereafter became Nigeria's first Civil Engineer and worked for many years in Lagos as a Government Surveyor. Dissatisfied with the working conditions and pay (as many Nigerians are to this very day), he established his own private practice. While running his practice, he was wrongly accused of misappropriating funds and sentenced to two years in prison in 1913. This disqualified him from eligibility for any public office for life. However, his intense passion for politics and his desire to see Nigeria gain independence from the British colonial rule led him to become one of the most influential figures in Nigeria's struggle for independence.

Macaulay's political activism began in the early 1900s through journalism. He was a skilled writer and an excellent orator. He used his writing skills to publish articles in newspapers and magazines, such as the Nigerian Chronicle, the Lagos Weekly Record, and the West African Pilot from 1910-1927. In these publications, he advocated for political and social reform, exposed corruption in government, and encouraged Nigerians to demand their rights from the British colonial authorities. He bought the first daily newspaper in Nigeria, the Lagos Daily News, in 1927 and used it as a platform to criticize the British colonial government's policies and to call for greater representation of Nigerians in government.  He also organized political rallies, public meetings, and protests to raise awareness about the need for political reform and independence. 
He was an active opponent of colonial rule and remained vocal about it through his news medium. His loud criticism soon got him in trouble with the British and he was imprisoned again after he published a report that the colonial government felt was an incitement to fuel existing political tensions. After serving his six-month sentence, he remained vocal about his criticisms but adopted a more cautious tone of reporting until the newspaper closed in 1938.

Herbert Macaulay's political efforts did not just start and end with a battle of wit and words. In 1923, he founded the Nigerian National Democratic Party (NNDP), the first organized political party in Nigeria. The party's primary goal was to fight for Nigerian independence and to promote the interests of Nigerians. The NNDP candidates won all the elective legislative seats between 1923 and 1938. The motto of the party was salus populi suprema lex: the safety of the people is the greatest law.
Macaulay and his party lived up to their motto and worked to protect indigenous Nigerians from unfair and exploitative colonial laws. He served as an adviser on two significant cases in Lagos history: Chief Oluwa's land litigation and the deportation of the Eleko of Lagos to Oyo. His success in these cases established him as the brightest African political leader of the time, working behind the scenes to propel Nigeria to the path of freedom.
At 80 years old, he was elected the party president of the National Council of Nigeria and Cameroon (NCNC) when it was formed in 1944. Nnamdi Azikiwe, who became the first president of independent Nigeria, served as the Secretary-General of the party. In 1946, the NCNC, led by Macaulay, rejected a new constitution proposed by the colonial government because the locals had not been fully consulted on its provisions. A delegation made up of Azikiwe, Mrs. Funmilayo Ransome-Kuti, Dr. A.B. Olorunnimbe, Alhaji Inua Wada and led by Sir Herbert Macaulay went on a tour of the provinces to raise funds for a trip to London where they were to convey their party's reservations to the new constitution. Unfortunately, while on this tour, Macaulay had an acute attack of rheumatism and died on May 7, 1946. His last words were, "after you have mourned me for a week, continue with the struggle." He was a true nationalist in life and in dying.
It is impossible to forget a man like Sir Herbert Macaulay. In addition to his political contributions, he was also a philanthropist who dedicated his life to helping the less privileged in his community. He was passionate about education and worked tirelessly to establish schools and educational institutions in Nigeria. His commitment to education led him to establish the Nigerian National Provident Fund in 1933, which provided loans to Nigerians to fund their education. 
He married only once to Caroline Platt in 1898. The marriage came to its swift end in 1899 with the untimely and unexpected death of Lady Caroline. Despite that, his legacy was survived by 16 children borne to him by different mistresses. While he was regarded as a promiscuous man, he was entirely responsible when it came to his family. Dr. Stella Adedevoh, the unsung heroine of the Ebola epidemic in 2014 was a great-granddaughter to the great nationalist.

Today, Sir Herbert Macaulay is remembered as one of the greatest Nigerian nationalists and a pioneer of African independence. His legacy is remembered in the many monuments and streets that are named after him, as well as on the now defunct one naira note and coin. His legacy inspires Nigerians to fight against tyranny, corruption, and injustice and demand their rights and freedoms.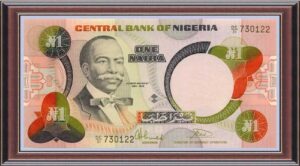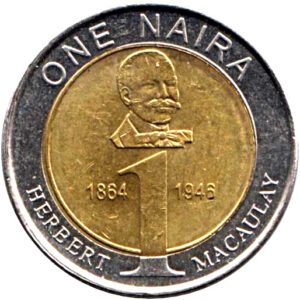 Macaulay was a man who did it all. He was a champion of women's rights and advocated for the education and empowerment of women in Nigeria. He believed that women had an important role to play in Nigeria's development and fought for their rights to be recognized and respected. He was an advocate for women's rights in a time when it was an odd notion.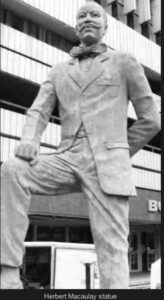 I often imagine that Sir Macaulay, alongside his contemporaries, looks down on Nigerian youths in approval, grateful that we finally found our spine and claimed our voice. He smiled at the #EndSARS protest and beamed as we came out in droves for the 2023 Presidential elections. And I believe that he hopes that our fervor will continue, regardless of what is thrown at us in the coming years.