PRESS NIGHT: ABH DECIDES 2023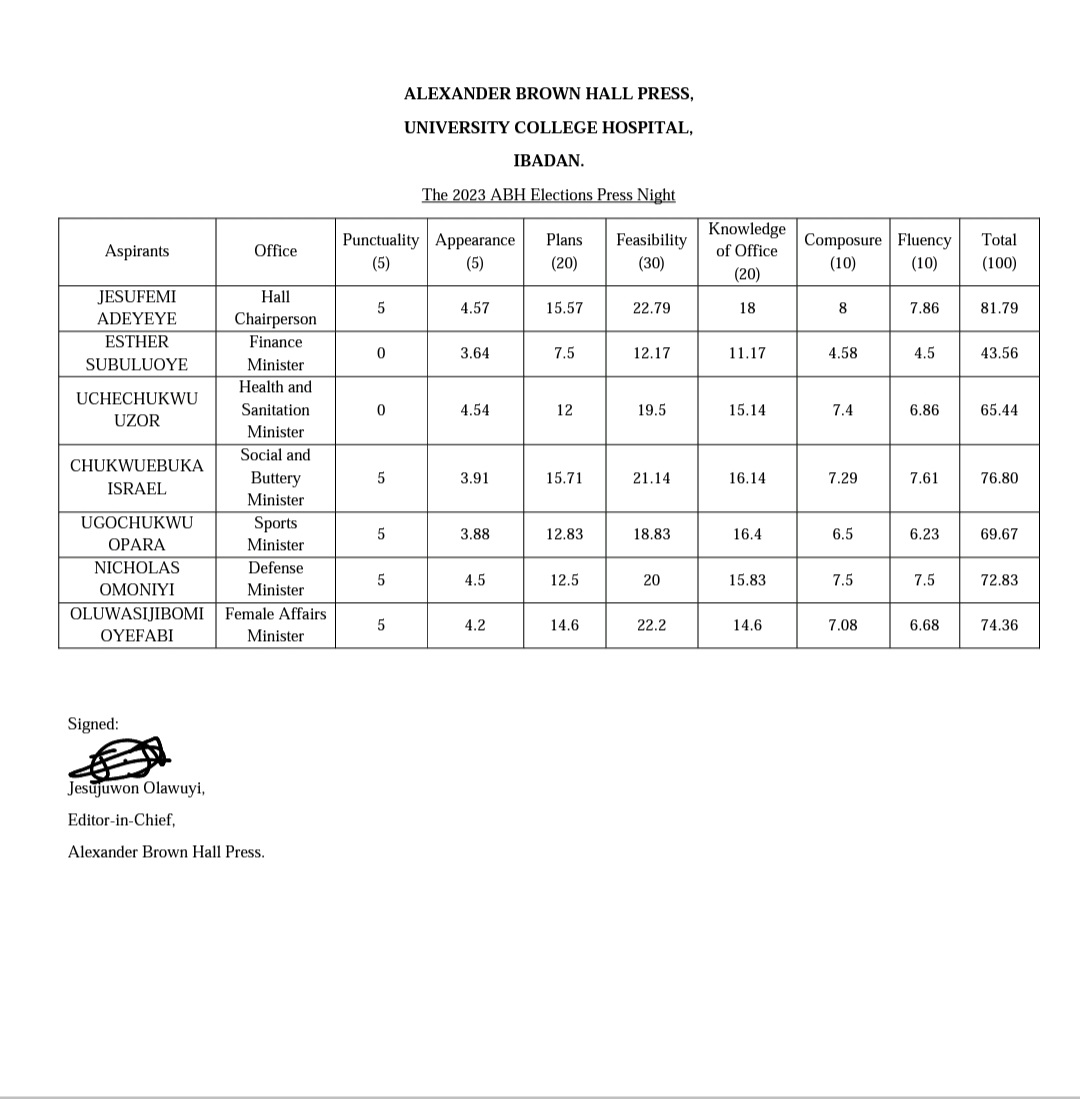 Numbers are very interesting things. With numbers, in one quick glance you can get a brief understanding of a thing. You can see how dire a situation is, or how a thing has flourished. However, the use of numbers in measuring the competence of aspirants is a more difficult adventure. Usually, the numbers do not tell the entire story. It is why many people believe that the Press shouldn't score anymore because its aim has been consistently questioned. But what we need is perhaps not an abolishment of the scoring system, but a use of some context in explaining the numbers. The spotlight will however be on aspirants who stood out for one reason or the other.
The Press Night which was held at the Famewo Common Room in Alexander Brown Hall, started at 7:30pm with the office of the Female Affairs Minister, Miss Oyefabi Oluwasijibomi who was the most punctual of the aspirants. While her plans were good and largely feasible, some of them still needed clarity like the "Feminine Tales" which she hopes to start. Her plan to announce the neatest and dirtiest floors bimestrially is one we will have to wait and see how female Brownites will receive. We quickly moved on to Mr. Nicholas Omoniyi, the aspirant for the position of Defense Minister. Like the aspirant before him, his plans were rather vague and needed a lot of clarity and some restructuring. However, as it is his first foray into politics, we hope he will learn more as he goes.
Mr. Ugochukwu Okpara, the aspirant for the position of Sports Minister, like many aspirants who have previously run for this position, had plans to improve the involvement of Brownites in sports but the how was not very clear. We however understand that things do not always turn out as planned and while different roads lead to the market, the aim is to eventually get there.
Mr. Chukwuebuka Israel, the aspirant for the position of Social and Buttery Minister spoke with a lot of confidence and he had the energy that has become synonymous with aspirants for this position. While he might not be a popular face for some, he spoke fluently. While some might not agree that the 'Social' part of the life of Brownites needs any more improvement, we can unanimously agree that the 'Buttery' part can be improved. The hope is that if he wins, the energy he has would be channeled into getting that improvement.
There were a lot of questions about the plans, or the lack thereof, of the aspirant for the position of Health and Sanitation Minister, Mr. Uchechukwu Uzor. Considering the efforts of his perhaps soon-to-be predecessor, a lot will be expected of him. He was also one of the two aspirants who were not punctual. He however dispelled rumours about him planning to run for an Executive position in his association, UADS, as he promised to give the Health and Sanitation Ministry his utmost attention. We hope that if elected, this will hold true.
Miss Esther Subuluoye, the aspirant for the position of the Financial Secretary of the Hall was perhaps the standout aspirant of the night. Miss Subuluoye arrived about 5 minutes late for the Press Night. When she finally climbed the podium, her manifesto was found to be riddled with errors and her plans raised a lot of eyebrows. Her composure was also brought into question as she was found to be chewing gum while addressing the Press. For someone who is a member of the current executive council, hopes were understandably high and they were sadly, largely dashed. Her credibility and eligibility to run was also brought to question as she had not served on a committee related to the position she's running for and she can't be said to have served in this Executive Council until she has given her account of stewardship. Her responses to various questions also did not inspire confidence. Regardless, we hope that by the Manifesto Night, a lot will have improved and she would be better prepared to respond to the questions of Brownites.
Mr. Jesufemi Adeyeye was the last to read his manifesto and answer questions from Press men and women. Hopes were also high following his role as the incumbent Health and Sanitation Minister. He was largely impressive, although there were areas we hope he will fine tune by the Manifesto Night. A lot is expected of him and if he wins, we look forward to how much of his plans he will be able to carry out.
As I slowly come to a close, the Press is no judge, jury or executioner. However, the aim of all of this is to use numbers to show how these aspirants performed while also giving context to help Brownites understand those numbers. After all, most of the candidates are going unopposed, and it is rare for a candidate going unopposed to lose an election. Eventually, the onus lies on Brownites to use the information provided to reach the most logical conclusion as regards if they think these people are the best persons for the job.
I understand that I might have failed at giving all the context required, however with the Manifesto Night holding later today, I hope that Brownites come out to ask these aspirants important questions. I also believe that aspirants would consider some of the questions Press members asked and see if they can improve on whatever plans they had. Finally, I hope that Brownites realize that the people who lead them remain as important as ever and as such, they should take the voting process seriously.
May the best men and women win!