DR CLEMENT OKOLO; BROWNITES GRIEVE THE LOSS OF AN ICON AND TEACHER
On Friday, the 30th of December, the ABH and UCH community received shocking news. Dr Clement Okolo, Sub Dean of the Faculty of Basic Medical Sciences and beloved teacher, had died. For most of the day, it remained firmly in the realm of rumours and the hall held its breath. By evening of that same day, the rumours had coalesced into fact and the weight of the loss soon became apparent to members of the hall. It is a testament to Dr Okolo's legacy that all the recollections of students and staff of encounters with him were overwhelmingly positive. The WhatsApp statuses poured in as students and doctors mourned the painful exit of a good man and celebrated the lasting impact of a life well lived.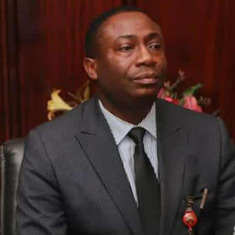 Dr Clement Okolo received his MBBS degree in 1995 from the University of Nigeria, Nsukka. He then proceeded to undergo his housemanship training at the Ahmadu Bello University Teaching Hospital, Zaria from 1995 till 1996. He served his country from 1996 to 1997 at the Nigerian Army Medical Reception Station, 4 Mechanized Brigade, Sobi barracks, Ilorin, Kwara state. In September 1999, Dr Okolo started on the path that will lead to his reverence and respect amongst the UCH committee. He was a registrar at the Department of Pathology, University College Hospital, Ibadan for just two years as he was quicky promoted to Senior Registrar in the same department in May 2001. In 2005, Dr Okolo left Ibadan for Edo state where he served as Lecturer 1 at the College of Health Sciences, Igbinedion University and as  a Consultant Pathologist at the Igbinedion University Teaching Hospital, Okada, Edo state. Later that year, he returned to the College of Medicine, University of Ibadan and has since served as Lecturer 1, Senior Lecturer and as Sub Dean of the Faculty of Basic Medical Sciences. He served as the Deputy Chairman, Medical Advisory Committee of the University College Hospital, Ibadan from 2017 to 2019.
Dr Okolo's illustrative style of teaching endeared him to many of the students he taught, and his down-to-earth personality and kindness endeared him to many of the people he came across in his illustrious life. The  overwhelming sentiment at the news of his death was grief at the passing of such a great man and teacher and shock at the suddenness of his death. However, some have chosen to celebrate the rare opportunity they had to experience an exemplary lifestyle. A memorial book in the Department of Pathology in UCH had students and members of staff stopping to fill in tributes to a great man. An online memorial dedicated to him is also full of heart-warming stories and tributes from the many people.
Dr Okolo's life greatly impacted a lot of Brownites. Many of them had positive recollections of the time they spent learning under him and the encounters they had.
Amaji Obinna of the 2k18 MBBS class said, "Dr  Abu Okolo was a man who said just what needed to be said. Whether he was teaching or having a more light-hearted discussion, I never saw him compromise on the truth. But even then, however "harsh" the truth he spoke was, you could see the genuine concern in his eyes, the kindness that laced his words. If the measure we give is truly the measure we receive, I can only imagine how adorned, how peaceful and how favoured a soul he now is."
Adetula David from the 2k19 BDS class also said, "Dr. Clement Abu was a good man. He was indeed an exceptional teacher who has a lot of respect for his students. I'll sorely miss him. COMUI will miss him. May his gentle soul rest in perfect peace."
Ojebola Babatunde of the final year MLS class said, "Dr Okolo taught me pathology. He was a really good teacher, and a good man as well."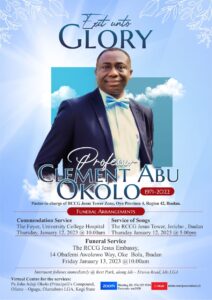 Dr Clement Okolo was buried on the 13th of January 2023 at Rest Park, Ido. He is survived by his wife and two children.