STUDENT FRIENDLY MEALS FOR YOUR CONSUMPTION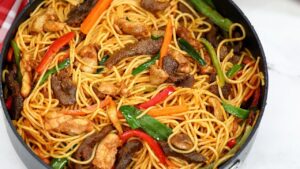 The year 2020 will never be forgotten for it brought about unprecedented changes in many aspects of our lives individually and as a country. Amongst many other changes, the economic situation of Nigeria grew from bad to worse. In ABH especially, where items were noticeably cheap before the lockdown. Upon resumption from the lockdown, we where met with a new ABH that we had to get used to and are still getting used to.
However, what has struck me in recent times is the quantity of food now being served to us. It is as though we now eat merely to survive and not to fill our stomachs. It is in this vein that I will be sharing with Brownites student friendly meals that we can prepare to fill our stomachs. From vegetable stir fry to risky burger read till the end.
JOLLOF SPAGHETTI: This is a tasty version of your regular spaghetti. It combines the rich, spicy flavours of jollof sauce with the familiar texture of spaghetti. The sauce can be made with a blend of onion, tomato, pepper and spices like curry powder, thyme and bay leaves. Then simmer your pasta in your spicy, tomato based sauce. Add vegetables like carrots, peas or corn if preferred and enjoy your meal with chicken, beef or fish.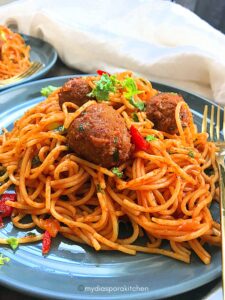 VEGETABLE STIR FRY: This is a simple and delicious delicacy that can be paired with rice or spaghetti. The vegetables required for this recipe are red bell pepper, yellow bell pepper, peas, carrots, corn and mushrooms. Cook up the vegetables, then whisk together the soy sauce, corn starch, garlic, chicken broth and pour over the vegetables, then simmer until it is thickened. There are many variations of this recipe hence you can add additional ingredients.
PAP/CUSTARD: This meal can be prepared in minutes. Pour your custard powder into a bowl and mix with water to a preferred consistency. Add hot water to your mixture then mix till it is cooked and thick enough. You can pair custard with akara, moin moin or anything of your choice.
PUFF PUFF: To prepare puff puff, mix salt, water, sugar and yeast together and set aside for about 5 minutes. Add flour to the combination and mix then leave for 1-2 hours to rise. Pre-heat your oil and make sure it is hot enough before adding your dough. Fry till it turns golden brown. You can pair your puff puff with milk or any drink of your choice.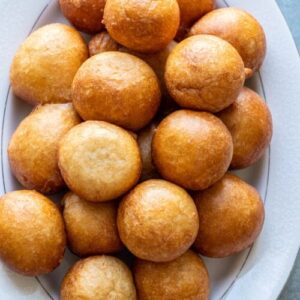 SUYA AND BREAD (RISKY BURGER): I am not sure of why it is called risky burger but at least I am sure of how to prepare it. Buy your suya, bread and other ingredients. Grate or slice pepper, tomatoes and onions, whip egg and add the pepper mix to it. Pour suya in egg mixture and add salt and seasoning cubes. Then, fry the egg mixture. Slice your bread into two and dress the bread with your mixture, place in the frying pan until it is flat and toasted to your desired level. You can pair your risky burger with anything of your choice.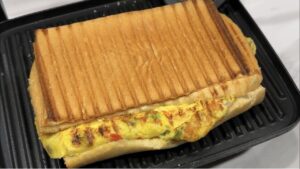 The above lists of meals are expected to fill the stomachs of the average Brownite. However, for those that want to eat till they faint, they can wait for our next article.
Share other recommendations in the comment section.