MEET FORT ISRAEL, THE ANTISOCIAL SOCIALITE WHO'S LOOKING TO SPICE UP THE ALEXANDER BROWN HALL SOCIAL SCENE
An interview with the sole aspirant for Social and Buttery minister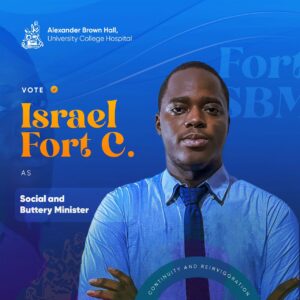 The election process for the 2023 tenure of ABH Executives is underway and this year, it seems Brownites have chosen to continue the trend of political apathy by not showing much interest in the race. Whereas, in times past, we had more exciting political races and campaigns with multiple people vying for the same post, this year, all the Brownites contesting are running unopposed and some posts have no one vying to fill up the position. On Tuesday, 9th of May, we sat down with the lone aspirant for the Social and Buttery minister, Mr. Fort Israel, to find out a bit about him and his motivation for running in this year's election.
Pressman: Good evening. Could you please introduce yourself to us?
Fort Chukwuebuka Israel: Good evening. Well, my name is Israel Chukwuebuka Fort. A 400-level dental student in COMUI. My hobbies involve cubing and playing games.
Pressman: Cubing? Like with a Rubik's cube?
FCI: Yeah, and I would describe myself as an antisocial socialite.
Pressman: Is that all you would like us to know about you?
FCI: Yeah. That's all for now.
Pressman: So what inspired your decision to run for the role of Social and Buttery minister?
FCI: Well, it goes without saying that the social life of this hall is suffering severely. The only time we ever get to do anything social together is during the health weeks and hall week which are like a month every year. So it's like a one-month-in-a-year subscription to fun and in between there's just this tension and frustration. This hall needs some life injected into it. That being said, before I even was a resident of ABH, I was on the social committee and I would like to continue the work that the former SBM (Ebun) started. She has done a lot of good work and I would just like to continue in that stead.
Pressman: How active will you say you were on the committee?
FCI: I was quite active on the committee.
Pressman: Nice. So what innovative things are you thinking of implementing that are going to spice up the social lives of Brownites?
FCI: Aren't you going to wait for Press or Manifesto night to hear that?
Pressman: You can just give us one or two that you don't mind being published in our article.
FCI: Well… I'm looking towards having a monthly karaoke or movie night. They would alternate every month to give Brownites avenues to relate socially and also let off some steam.
Pressman: Alright. That sounds like it might be fun. Are there any other capacities that you have served the hall?
FCI: Yeah. I'm currently on the ABH Maintenance committee. I'm on the Finance committee. I'm also on the Information ministry – in the Publicity Committee and the WiFi committee. I also served on the Rally and Bonfire committees for this year's hall week. I think that's all pertaining to ABH.
Pressman: Okay. so you actually made your intentions to run for Social and Buttery minister known (at least to your classmates) for a while but as of now, I don't think there have been any posters or public campaign materials showcasing your intention. Why is that?
FCI: Yeah… It kind of got away from me for a while but the flyer will be out within the next 24 hours.
Pressman: Don't you think you're cutting it a little too close or you're just that confident about your position?
FCI: I wouldn't say I'm confident about anything. I'm sorry. I will release the flyer. It all just got away from me with all the exams going on.
Pressman: Right. We wish you good success in your exams and we're anticipating your campaign. So, in the Socials committee, did you experience any challenges working with the people on the committee and if you were to be the SBM, how would you overcome those particular challenges?
FCI: So there are two subcommittees under the office of SBM. One for the TV room and one for the price and quality control. I was on the Price and Quality Control committee and the committee members worked very well in my opinion. The members all brought different opinions to every matter which I believe was very helpful to the success of the committee. I don't think there were any stand-out issues. I would say that a challenge we faced was concerning the reviewing of vendors. People weren't too consistent with their reviews and I think that's something that needs to be worked on. I plan to address that by assigning that task to the people who are interested in reviewing rather than just assigning it to everyone on the committee. I think this would ensure that their interest is there. As for the TV room, I think the committee is more or less self-sufficient and runs smoothly.
Pressman: So you don't think there are any issues that need to be addressed with the TV room?
FCI: Well, I would still need to liaise with the person on the TV room committee that reports to the SBM but I think their major issue is fundraising to cover the cost of the cable subscription. That should be it.
Pressman: Okay. So what's one thing that the SBM did this tenure that you intend to continue if elected?
FCI: I think she (Ebun) really did a great job – a fantastic job – as regards the food vendors in the hall. I mean, there were multiple attempts by them to increase their price or reduce their volume and she fought them tooth and nail to ensure that Brownites still get a certain quality for price. She also helped to introduce the vendor, Quckbite, which helped to foster healthy competition among the other grill vendors. the older vendors had already gotten complacent and comfortable and their quality dropped. The quality declined, the attitude declined, but the introduction of the new vendor really put them on their toes. She did that and I thought that was really good. She did that very well.
Pressman: So you're running unopposed for this position (at least for now).
FCI: I think every executive position is running unopposed and there's even a couple that aren't being filled.
Pressman: Why do you think that people are not interested in taking up political positions in ABH?
FCI: Brownites are particularly politically apathetic. But I believe most people think that the perceived stress of being an executive in ABH isn't worth the rewards and I understand because it's not easy.
Pressman: Do you believe you're capable of taking on that stress and serving Brownites effectively and efficiently?
FCI: Yes. Yes, I do.
Pressman: I like that answer. Very succinct and straight to the point.
FCI: (laughs)
Pressman: What qualities would you say that you have that make you so confident that are you the best fit for this job?
FCI: Anything I determine that I want to do, I invest a lot of time and energy into it. I don't do anything that I'm not interested in. I am ready to put in the necessary work to make this work. I'm very passionate about the scope of the SBM's work, particularly the price and quality control, and social aspects of it. Those are things that really resonate with me. So, yes, I'm very confident.
Pressman: Alright. So, interest assures us of your commitment?
FCI: I am very very very interested in this matter and committed to seeing it through.
Pressman: (laughs) Three very emphatic 'verys'.
FCI: I'm VERY interested.
Pressman: Well, thank you very much for this interview, Mr Israel. We are looking forward to seeing you at the press and manifesto nights. We wish you the best with your aspirations.
FCI: It was my pleasure. Thank you.