A STORY OF CHILD MARRIAGE, RAPE AND MARITAL VIOLENCE: The Story of Noura Hussein
The parents of a Sudanese teenager who was sentenced to death after killing her husband – whom she accuses of raping her – have denied reports that they've disowned her. In an exclusive interview with the BBC, her father also says he never imagined that making her marry her cousin would have such terrible consequences.
Noura Hussein sobbed uncontrollably when she saw her mother earlier this month. It was the first time she had been visited by her family, since she was jailed one year ago.
Through the tears, the 19-year-old told her mother that she had originally planned to kill herself, after being raped by her husband.
"She hated herself after he raped her," says Noura's mother, Zainab Ahmed.
"She had got a knife ready to take her own life if he touched her again."
But in the heat of the moment – when he did touch her again – she stabbed her husband instead. It was self-defence, her mother insists.
When Noura was sentenced last month an online campaign, #JusticeforNoura, spread across the world.
Supermodel Naomi Campbell and actress Emma Watson were among celebrities who joined activists in condemning the death sentence and demanding that the conviction be overturned.
And when Amnesty International urged supporters to email Sudan's Justice Minister asking him to intervene, the volume of messages forced him to get a new email address.
It was only when her mother visited her in the harsh conditions of the Omdurman Women's Prison that Noura discovered about this tide of support in the outside world.
For now, her own world is defined by the walls of the prison, where all inmates live in one large yard.
"There are no roofs so most of the women have to use sheets to keep the sun off them," Justice Africa's Sudan co-ordinator, Hafiz Mohammed, has said.
Noura remains in the shackles that she has been wearing since her arrest.
While she looked healthy, her mother says, her spirit appeared broken.

The second of eight children, Noura Hussein, grew up in the village of al-Bager, 40km (25 miles) south of Khartoum. It's a dusty place, surrounded by sandy, rocky hillocks, not far from the River Nile.
The bright colours of the fruit and vegetables laid out on patterned cloths on the floor of the local market provide rare bursts of colour piercing the mostly brown and barren landscape.
Zainab Ahmed says her daughter was always a quiet girl, and an intelligent one.
"She had ambitions," Zainab says. "Noura dreamed of studying law at university and eventually becoming a lecturer."
Their extended family had left the conflict-ridden region of Darfur to move to al-Bager when Noura was a child. They didn't have much money, but Noura's father's business – a small hardware shop which sold tools and oil – meant that Noura could enjoy an education. This was what made her happiest.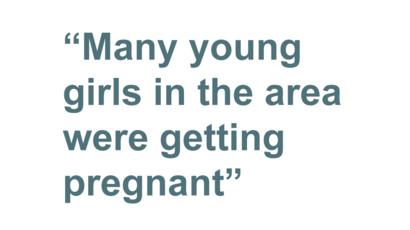 But in 2015 Noura's 32-year-old cousin, Abdulrahman Mohamed Hammad, proposed to her. She was 16.
Her mother says her daughter didn't initially appear upset by the idea but asked to be allowed to continue her education. She also asked for the marriage to be delayed until her mother, who was pregnant, had given birth.
But family pressure began to mount, notably from her own father, Hussein.
"Many young girls in the area were getting pregnant and having illegitimate children," says Hussein.
Hussein says he didn't want her to suffer a similar fate and end up without a husband.
While she took part in the initial marriage ceremony it became clear that Noura's opposition to the idea was increasing.
She ran away to her aunt in Sinnar, a city 350km away, and remained with her for two days. She was persuaded to come back home on the understanding that the marriage would never be completed.
In fact, once she arrived back the ceremony was completed, but she wasn't required to live with her husband.
For the next two years she remained at her family home. When Abdulrahman visited, she would tell him outright that she didn't want to be married to him.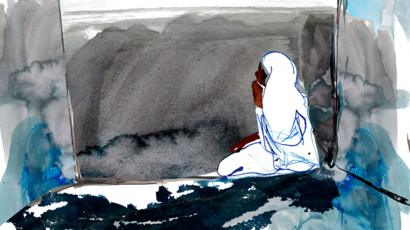 However, family elders began to insist that Noura and her husband formalise the relationship and behave like a legally married couple.
In their close community it is the elders who make all key decisions. Honour and family respect are the most important values of the culture.
Her father Hussein says he saw no good reason for his daughter to keep refusing the union. The family had been patient for years.
Under pressure, Noura agreed to move in with Abdulrahman in April 2017.

According to a first-hand account obtained by CNN, Noura says that she resisted her husband's sexual advances for the first week they lived together.
She cried. She refused to eat. When Abdulrahman slept she attempted to leave the flat, but it was locked.
On the ninth day, Abdulrahman arrived at their flat with some relatives, who tore at her clothes and held her down while he raped her, according to the CNN report.
The following day Abdulrahman tried again. This time Noura reached for the knife she told her mother she would use to kill herself.
Noura's account says that in the tussle her hand was cut and Abdulrahman bit her shoulder.
It then jumps to Noura running to her parents' home, holding a bloody knife.

Hussein and his wife were terrified when they saw their daughter standing in front of them clutching the murder weapon.
"I killed my husband after he raped me," she told them, holding out the knife.
"I then understood the seriousness of the situation," says Hussein. Knowing Abdulrahman's family, he was in no doubt they would want revenge.
Noura's whole family was now under threat, he says, so he made a decision to take them all to the police station. He did this to protect them, not, as has been reported, to turn her in and abandon her. But Noura was arrested and charged with premeditated murder.
Her family went home to appeal to the elders to make a deal with Abdulrahman's family. They refused, instead insisting that Hussein and Zainab must no longer see Noura if they wanted to protect their other children.
When their house and business premises were set on fire and burned down, Hussein and Zainab agreed.
However, the intimidation persisted and the couple took their children and fled.
A court in Omdurman, Sudan's second largest city, later found Noura Hussein guilty of premeditated murder, and last month – when her husband's family refused the option of monetary compensation – it officially sentenced her to death by hanging.
Noura's lawyers are appealing against the sentence, and seeking a pardon. The verdict is expected within days.
Hussein says he has not seen his daughter since that night, because of the threat to harm him and his other children if he does.
"I also want to see my daughter and visit her in prison and raise her spirits, but I am unable to do so," he says.
He has talked with her on the phone, though, and says she assured him that she was in good health.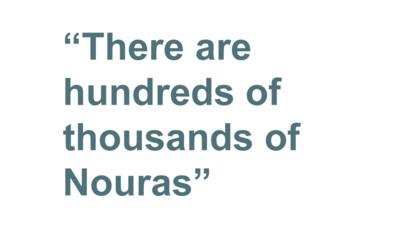 Zainab Ahmed says she is hopeful of a last minute miracle for her daughter. She likes to imagine that family elders will intervene and convince Abdulrahman's family to ask the courts to repeal the death penalty.
Amnesty International thinks this is a vain hope.
"At this stage this seems highly unlikely. Had they done this during the sentencing they could have requested mitigation. At this stage a family would have no say in a judicial decision," says Dr Joan Nyanyuki, Amnesty's director for East Africa.
However international pressure may work, she says.
"When we called for people to email Sudan's Justice Minister demanding Noura's pardon, he had to shut down his email address within two weeks. It had an impact. If people emailed the Sudanese embassies in their respective countries demanding her release, that would make an immense difference."
She adds: "There are hundreds of thousands of Nouras that we haven't heard of, in forced marriages being raped. This fight is also for them."
Noura's parents now live in a village far away from al-Bager.
They say that their marriage is still strong and they are supporting each other and their children through the ordeal. But Noura's fate haunts them.
"No-one wants a miserable life for their daughter," says Hussein.
"I did not expect things to reach this degree.
"We are hoping God will rescue her."
Culled from www.bbc.com