ARSENAL VS MANCHESTER CITY: A CLASH OF TITANS!
Undoubtedly, one of the most anticipated matches in the English Premier League is the clash between league leaders, Arsenal FC, and the defending champions, Manchester City. Given the excellent form of Arsenal so far this season, a fixture against the Guardiola's Cityzens is something very enticing to look out for. Their first encounter for the season should have happened in October last year, but football fans were denied this gratifying clash of titans due to clashing schedules.
Arsenal will be traveling to Etihad this Friday with the hope of securing a spot in the next round of the FA Cup, a feat that could place them on the path to their record 15th FA Cup title. However, this doesn't look as easy as it seems, as both teams will seek a win.
Arsenal beat Oxford United 3-0 in the previous round, courtesy of a brace from the club's top scorer, Eddie Nketiah. Manchester City, on the other hand, humiliated crisis-hit Chelsea by 4 goals to nil, despite Pep fielding a mix of backups and regular starters. However, against Arsenal, Pep will not want to take chances, as he will likely start many of his first-team players this Friday.
Arsenal will come into this game with a lot of confidence after humbling the in-form Manchester United team in the Premier League at the Emirates Stadium. Equally, Manchester City faces Arsenal with renewed confidence after winning their last two games after suffering rare back-to-back defeats to neighbours, Manchester United and Southampton in the League Cup.
The towering presence of the record-signing Erling Haaland is a huge boost to City's attack, but the defense has been shakier and more porous in recent times. This inconsistency, coupled with some injuries, has cost the team some crucial points in the Premier League, as well as knocking them out of the Carabao Cup. It will also be interesting to note that a very good tactic that has worked well against City this season is to block off the supply lines to Haaland, and since the forward doesn't do much tracking back, he will, in such cases, be definitely starved of the passes.
Arsenal, on the other hand, seems to be in the best form ever, with 50 points garnered from 19 games and 5 points clear of City on the log. Arsenal has really been top-notch both at home and away, winning eight games and drawing one both at home and on the road. It's also worth noting that Arsenal hasn't lost a game this season at the Emirates Stadium.
Arsenal has a very good record in the FA Cup tournament. They have won their last four FA Cup games against Manchester City, reaching the final each of the times they eliminated the Citizens and winning the trophy on the last three occasions (1971, 2017, and 2020). Man City, on the other hand, has generally dominated Arsenal since Guardiola took over the reins, winning 13 of their 16 meetings. But Mikel Arteta can take pride in the fact that he led Arsenal to triumph in two matches against his former mentor, and indeed, one of them was en route to their FA Cup triumph in 2020.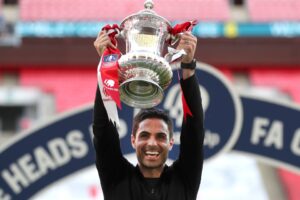 The hosts may once again play without Phil Foden, who picked up a troublesome foot injury that sidelined him for their 3-0 win over Wolves the last time out. Equally, the visitors will be without former City forward Gabriel Jesus, who has been out injured for a long time. However, the arrival of a new signing, Leandro Trosaard, who had a very beautiful impact in their win against United, is a huge boost. Eddie Nketiah's current form could also be an advantage for the visitors.
This fixture is very important and defines itself for two significant reasons. One, it is the first of three matches between the title contenders, and any team that wins will have already carved out a niche for itself in subsequent games. Essentially, if Arsenal defeats City, it could mean that Pep's side has already missed out on the last possible chance to add a trophy to their mantelpiece this season, while also assuming that Arsenal can continue on their current form until the end of the season. On the other hand, if the pendulum swings in City's favour, that would mean a lot of confidence for City and a serious upset for Arsenal.
Second, considering the type of relationship that exists between Arteta and Guardiola, this promises to be a very delicate and tough match. In Arteta's words during the pre-match press conference, he noted that he would have preferred to do it against someone else, because he wants the best for Guardiola.
"When you are challenging someone like this, something comes in between, so it's a strange feeling. It is what it is, and that's our challenge," he said.
This FA Cup fourth-round clash will take place on Friday, January 27. Kick-off at the Etihad is scheduled for 9 p.m, GMT +1.