LEBRON JAMES BREAKS NBA'S ALL-TIME TOP SCORING RECORD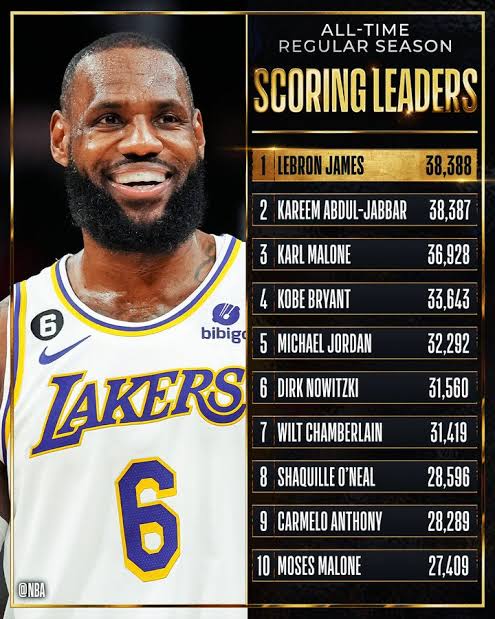 LeBron James, the king of basketball, has just made another record in his illustrious career. On February 7, 2023, he broke the all-time scoring record for a forward, surpassing Kareem Abdul-Jabbar's previous mark of 38,387 points. Kareem's 39-year record was thought to be unbreakable by many critics of the game, right up until the moment LeBron did.
LeBron's record-breaking performance took place during a game against the Oklahoma City Thunder. He scored a fadeaway jumper in the third quarter of the game and was met with a standing ovation from the crowd and his teammates. The game was then paused for about ten minutes to celebrate such an unforgettable moment in the history of the sport. Even though the Los Angeles Lakers lost the game to the Oklahoma Thunder with a final score of 130-133, the team was merry and rejoicing all day long.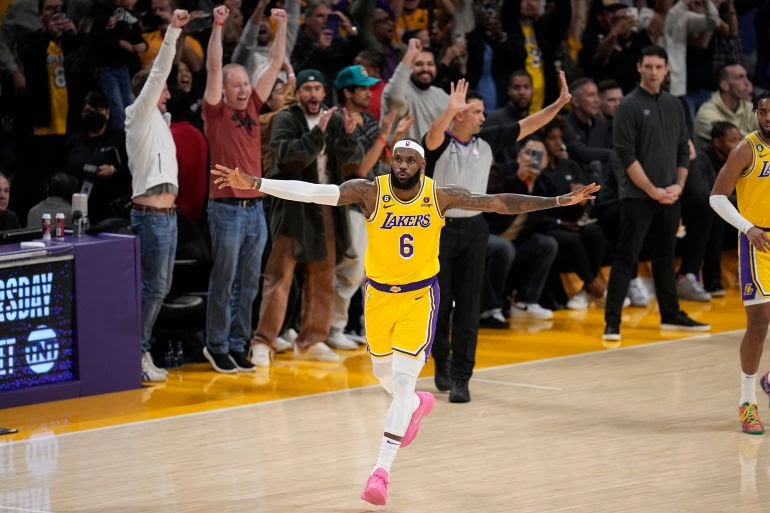 His scoring prowess is a testament to his versatility as a player. He has the ability to score in a variety of ways, whether it be through driving to the basket, hitting a three-pointer, or getting to the free-throw line. He has also been a dominant force on the boards, often leading his team in rebounding, and is one of the best passing forwards in the game's history.
LeBron's impact on the game of basketball cannot possibly be overstated. He has changed the way the sport is played, inspiring a generation of young players to emulate his style of play. He has also been a role model for many, both on and off the court. He has used his platform to speak out on social and political issues and has been a vocal advocate for equality and justice.
LeBron's record-breaking feat is even more remarkable considering that he is still playing at a high level at the age of 38. Many players begin to slow down at this stage of their career, but LeBron has continued to play at an elite level, showing no signs of slowing down. This season, he has been a dominant force for the Los Angeles Lakers, leading them to the top of the Western Conference standings.
His stellar performance is not just a testament to his own abilities, but also to the support and guidance of those around him. His coaches, teammates, and family have been instrumental in helping him reach this level of success. LeBron has often spoken about the importance of having a strong support system, and how it has been essential in helping him maintain his focus and motivation throughout his career.
His feat has also generated a lot of discussions and debates about where he stands in the pantheon of great basketball players. Many consider him to be the greatest of all time, while others believe that there are still others who deserve that title. However, one thing is certain, LeBron's impact on the game of basketball will be felt for many years.
LeBron James' new record is a testament to his hard work, dedication, and talent. He has been a dominant force in the league for nearly two decades. He is a true ambassador for the sport, and his record-breaking performance is a fitting cherry atop his many accomplishments. LeBron has stated that his dream is to play professional basketball on a court with his son, Bronny, wearing the same jersey as him. Therefore, we can be sure that we are yet to see the last of this legendary athlete.
Potential contenders to break LeBron's records include players such as Giannis Antetokounmpo, Luka Doncic, Zion Williamson, and Jayson Tatum. All of these players are talented and have the potential to have long, successful careers, but it remains to be seen if they can break LeBron's records. There are also many other young and talented players in the league who could emerge as contenders.

Ultimately, only time will tell who will be able to break LeBron's records, if anyone.